Get along this Thursday to Speedfest – "The best of the best for Christchurch"
Update: Are you looking for the 2013 SPEEDFEST instead?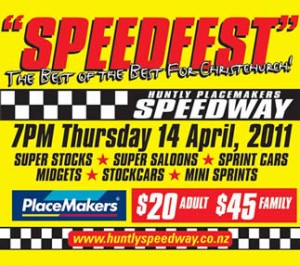 Four Christchurch families affected by February's earthquake will be guests of the Waikato Stock & Saloon Car Club at Huntly Placemakers Speedway. The club will bring these families from Christchurch to the meeting on Thursday, the day before the start of the ITM 400 V8 Supercars event in Hamilton.
When: Thursday, 14 April 2011, Pre-event entertainment approx 6.30pm, Racing at 7.00pm
Where: Huntly Placemakers Speedway, McVie Road, Huntly
Cost: Adult: $20, Family: $45 (2 Adults & up to 4 Children)
This annual invitation meeting features the national champions of all key classes racing including Sprintcars, Super Saloons, Superstocks, Stockcars, Midgets and Mini-Sprints.
For more information see: www.huntlyspeedway.co.nz