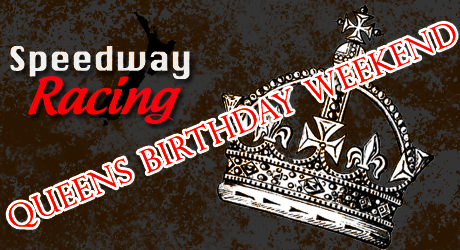 Looking for some speedway action this long weekend for Queen's Birthday Weekend?
Plenty happening at tracks around the country (depending on weather) for Queen's Birthday Weekend. See below for more.


ROSEBANK
What: Working Bee
When: 11am onwards, Saturday June 4 2011
Where: Rosebank Speedway
Bring: your tools
More details: See their site
TAIPA
What: 20th Anniversary Meet, featuring CTRA NI Jalopy Title 4 June. 25 Lap Sprintcar/Modified Feature Race 5th June
When: 11am Saturday 4th & 10am Sunday 5th June 2011
Where: Taipa Speedway, Oruru Road, Taipa, Far North
WAIHI BEACH
What: Saloon Day
When: 11am Saturday 4th June 2011 (Rainout day Sunday)
Where: Waihi Beach Dirt Track Club
Classes Running: saloon cars, stock cars, production saloons and mini stocks in action. The regular dirt track classes – which race clockwise – at the Waihi track will also be in attendance.
MERCURY BAY
What: Queens Birthday Picnic Day
When: 12noon start, Saturday 4th June 2011 (Rain Date Sunday)
Where: Mercury Bay Speedway, Track by the Whitianga airfield.
Classes Running: Saloons, Super Saloons, Production Saloons & Ministocks. Also Ladies, Crew and Sponsor Races.
WESTPORT
What: Queens Birthday Day One, Queens Birthday Day Two (includes Derby)
When: 11am both Satuday and Sunday 4th and 5th of June 2011 (RAINOUT Monday)
Where: Sunset Speedway Westport, Craddock Drive, North Beach, Westport
Classes Running: A wide range of classes on offer.
KAIKOURA
What: Racing
When: Satuday 4th June 2011, at 10am
Where: Kaikoura, Inland Kaikoura Rd, Kaikoura
Prize Giving: Saturday night at Robbies Bar
MANAWATU
What: Awards Night for Manawatu Speedway Club & Robertson Holden International Speedway.
When: Sunday 5th June 2011 from 7pm. (Drinks – 6 pm Awards – 7 pm)
Where: Awapuni Function Centre (Awapuni Race Course)
More details: See their site
[ad name="spdway link Horiz 468×15″]
Note: Event details subject to change. Always check with the host track for full information and meeting confirmation.