New Zealand Super Saloon Championship
The Valvoline New Zealand Super Saloon Championship is coming to Waikaraka Park Family Speedway on Friday the 10th and Saturday the 11th of January.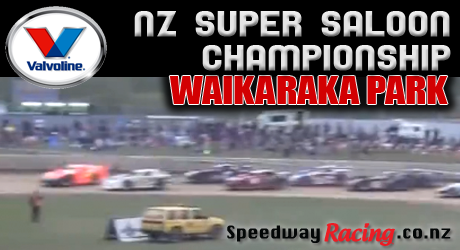 ​
New Zealand Super Saloon Championship
44 of NZ's top Super Saloon competitors are ready to battle it out on the dirt at Waikaraka Family Speedway on the 10th and 11th of January.
Support classes for Friday will be Six Shooters and Ministocks, and on Saturday nights support classes will be Stockcars and the Auckland Superstock Champs.
Scruitineering will be at the pit area from 2pm until 5pm. Eliminations will be run in 3 heats, SNZ Championship format with 4 groups of 11 cars. Saturday night there will be 2 repercharges and the first 2 cars in each repercharge will advance. On Saturday the finals will be run over three 15 lap races in the SNZ Championship format.
Don't miss the action.
When:
Where: ​Waikaraka Park Family Speedway, 175 Neilson Street, Te Papapa, Auckland, New Zealand (Show map)
Tickets from $10.00 for kids 8 to 15, seniors, and students with ID under 20. Adults (16+) $25.00 Family Pass (2 adults up to 4 kids) $50. Saturday prices for Adults is $25 and Family $60. Buy Tickets from the gate on race night or from iTicket
Accommodation: If you need accommodation, check out some hotels online or ask for options on our Facebook page
NZ Super Saloons Groups (as at 7/1/14):
Group 1
1NZ Mark Osborne
7M Brent Emmerson
21W Donald Gregory
36A Mike Pegler
41b Grahame Strong
43m John Roberts
63A Nigel Mouat
66H Craig Marsh
71C William Woodhouse
95b Johnny Browne
891C Josh Boulton
Group 2
2NZ Richie Taylor
5B Steve Flynn
53M Mark Hutchins
81M Dean Waddell
8H Craig Cardwell
24w Martin Halcrow
46E Paddy North
58A Max Andresen
48C Gavin Hill
98A Graeme Andrew
Group 3
3NZ Ian Burson
26T Shane McIntyre
88M Gavin Dyer
96A Lance Jennings
6C Dennis Bolt
12n Shane Carey
71M Russell Donovan
881C Bruce Bolton
46H Cody Hata
55A Geoff Gentry
86C Jason Moore
Group 4
6B Grant Flynn
27C Trevor Elliot
41M Terry Corin
46M Matt Smith
99A Shane McInteer
12M Kristin Vermeulen
21H Steve Williams
24A Ben Harding
33M Paul Carter
73C Mark "Fluffy" Grocott
492I Campbell McManaway
For more information on the NZ Super Saloon Championship visit the Official Website here: www.waikarakafamilyspeedway.co.nz
Note: Rider line-ups, timings and programmed entertainment subject to change.